Ferrous forging
TFO delivers a wide variety of ferrous forging products utilizing new thinking and know-how accumulated in the field of transportation equipment for automobiles and motorcycles, and construction equipment.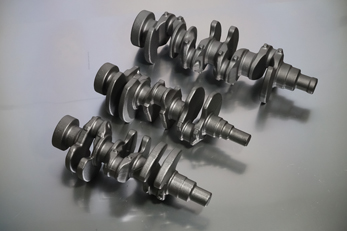 Aluminum forging
Forged aluminum-based products featuring both lightness and strength, and forged iron-based products satisfy wide ranging customer needs. We have established a one-stop supply system with a wide range of production equipment specialized for aluminum.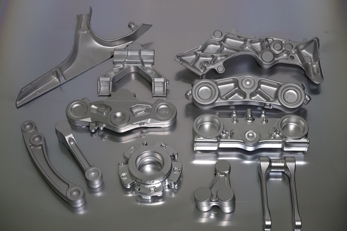 (1) Batch-type heat treatment furnace (Automatic program allows T4 and T6 treatment.)


(2) Acid-alkali washing equipment (Continuous automatic treatment ensures a clean and natural surface finish for each material, including aluminum.)


(3) Fluorescent flaw detector (This detector enables the non-destructive identification of surface flaws)

Stainless steel forging
TFO delivers forged stainless-steel-based products featuring superior strength, corrosion and heat resistance, processability, and design to the automobile, railway and many other industries.

Magnesium forging
Magnesium has attracted attention as an alternative to aluminum. Through optimized design and processing for each material, we have succeeded in reducing weight and increasing strength.